---
Motorcycles
I started riding motorcycles when I was in the army. My first bike was a Honda 360cc to get around the base and town. Then I got a used Yamaha 650 Special. I really liked the bike but it didn't like me. I guess the previous owner either messed it up or it was just a piece of junk (the Honda 360 could out run it!). I did take the 650 from Louisiana up to New Jersey when I got out of the army. The first attempt didn't go very good. 50 miles out I stopped to insure I have a full tank before hitting the Interstate. My lower right leg is covered in oil. I fill the oil and gas and head back. They got it fixed (there was still no real good power in it) so about a month later I took my trip. It was great being out on the road and seeing this beautiful country. I enjoyed it all the way to Balitmore. The day after I stopped over night there, a cold front kicked in and I froze my butt off the rest of the way. Not long after that I asked my brother-in-law to sell it for me. I had not ridden since then.
My wife had a Suzuki Savage (650cc) in her garage for two years before we met. She put about 600 miles on it and tried selling it later on since her riding buddy got rid of his. After dating for awhile, we worked on the bike and finally got it going. It's a nice bike and very easy to handle. Since then I have been looking all over the internet for parts to customize it.
And that's when I found SeegerCycle. They have kits for creating choppers out of ordinary motorcycles. One kit was for a Savage. I knew then I wanted to try this but I didn't want to mess up our good bike. I found a used Savage with quite a bit of character (dents and scratches). I'm in the process of turning an ugly duckling into a swan (hopefully). Before and after pictures - the red one is the original - the yellow is the one to become a chopper.
Before: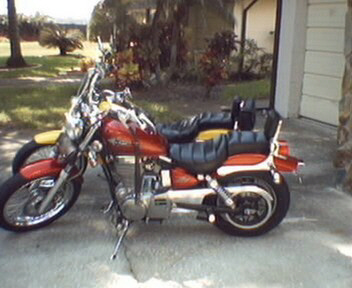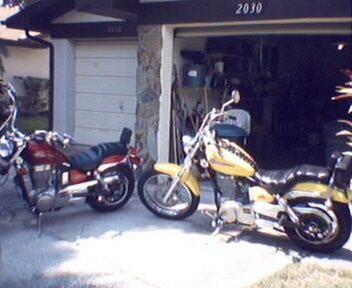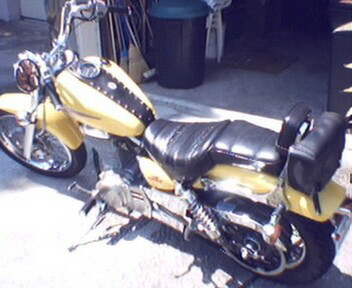 After: (Note - I haven't done any real work on the Duck yet as I wanted to do some things to the first one). Gel seats (Suzuki) - Supertrapp exhaust - luggage rack - saddle bags w/supports - rain gear The day I got the changes done it rained on the way home so I was lucky I had purchased some rain gear for my wife (we had got caught one day in a light shower). I love the sound of the Supertrapp exhaust. For the Duck I'll probably go with Jardine's since the Supertrapp also started turning color within a week and didn't seem to get rid of the backfires completely. The look is very nice and getting rid of the extremely huge shield was nice too. Makes the bike look so much better. I was VERY disappointed in the gel seat from Suzuki - if it rains it soaks up the water like crazy due to a mesh cover in the middle of the seat. I finally took a hair dryer to it to help dry it out so I could ride the bike again. I'll be getting the next seat from Seegers since I could not find anything else that specified it would fit the Savage.
Here is the chopper in the works...June 2003.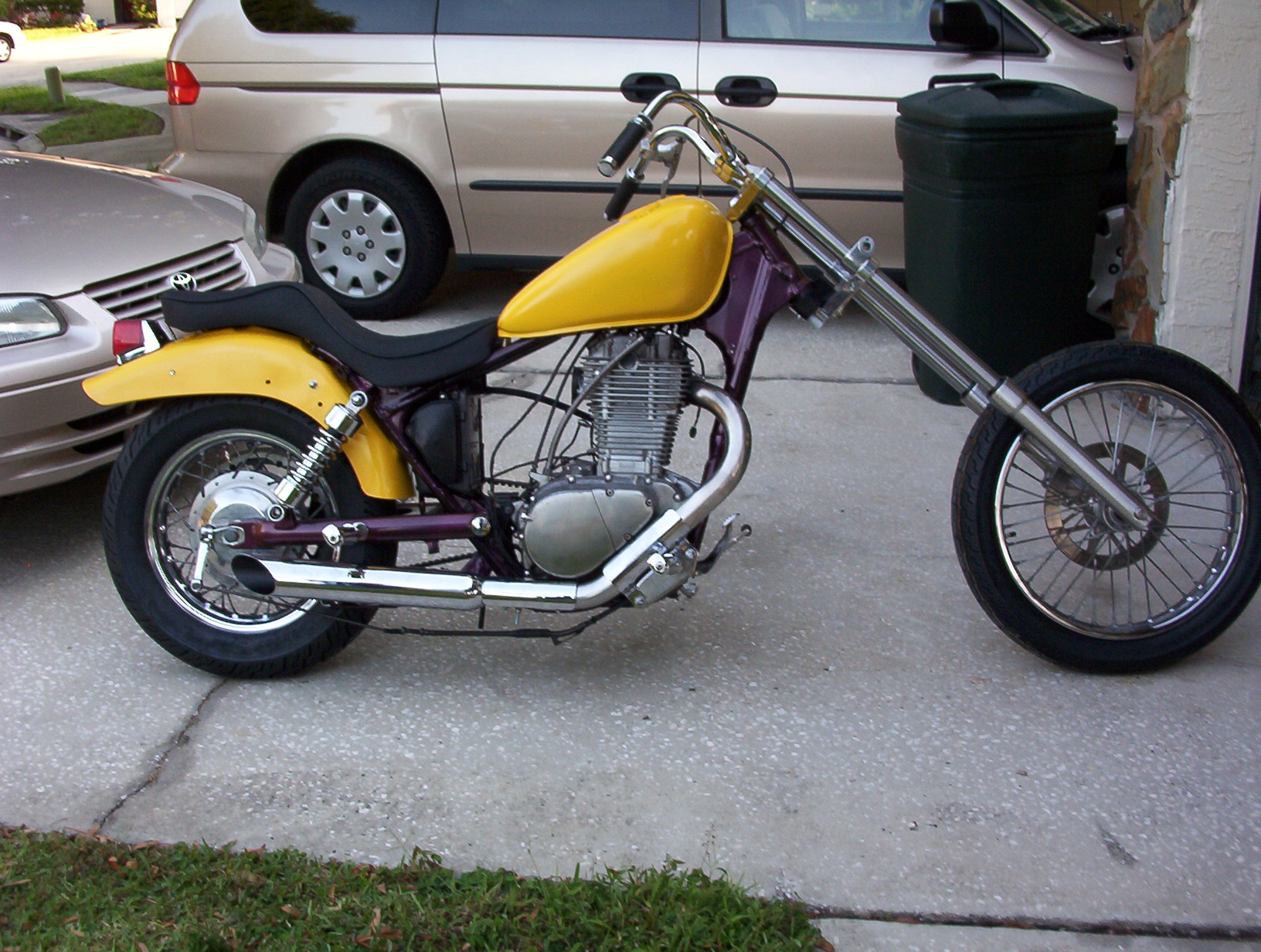 And in July 2003, not completely done yet but it is in working order. I could not wait to start riding it - I'm very pleased with the SeegerCycle chopper kit. The seat I ordered from SeegerCycle did NOT fit the bike - I still have to figure out a way to fix it. Until then, I'll use the original seats from the Red Savage.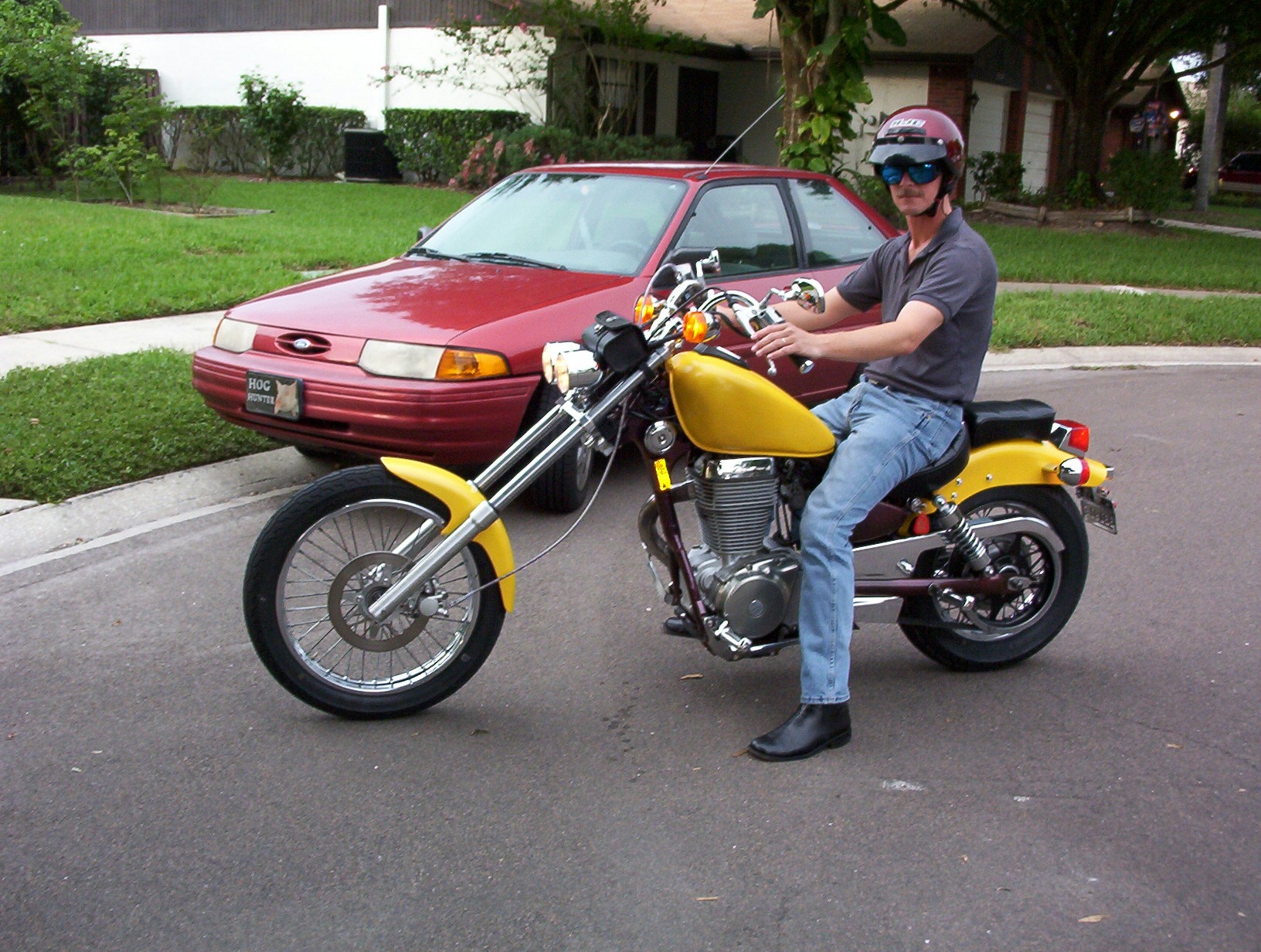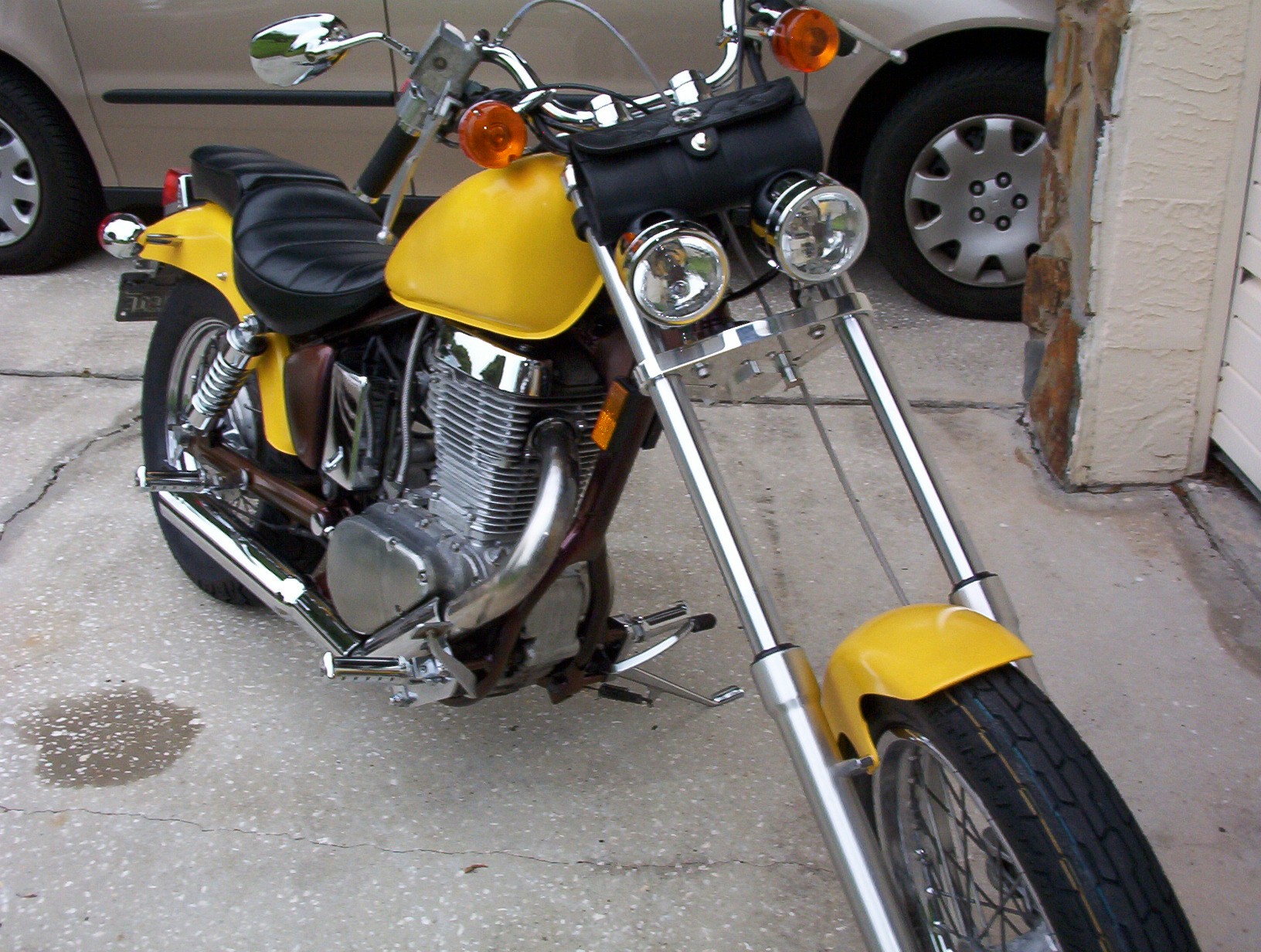 August 2003 - 800 miles later and some more changes...GTS Toba seat, JC Whitney handlebar grips, and J&P Cycles tank pouch. See latest pictures
Back to: Top
---